Sony Alpha ZV-E1 Full-Frame Interchangeable-Lens Mirrorless vlog Camera (Body Only) | Made for Creators | 12.1 MP | Artificial Intelligence based Autofocus | 4K 120p Recording - Black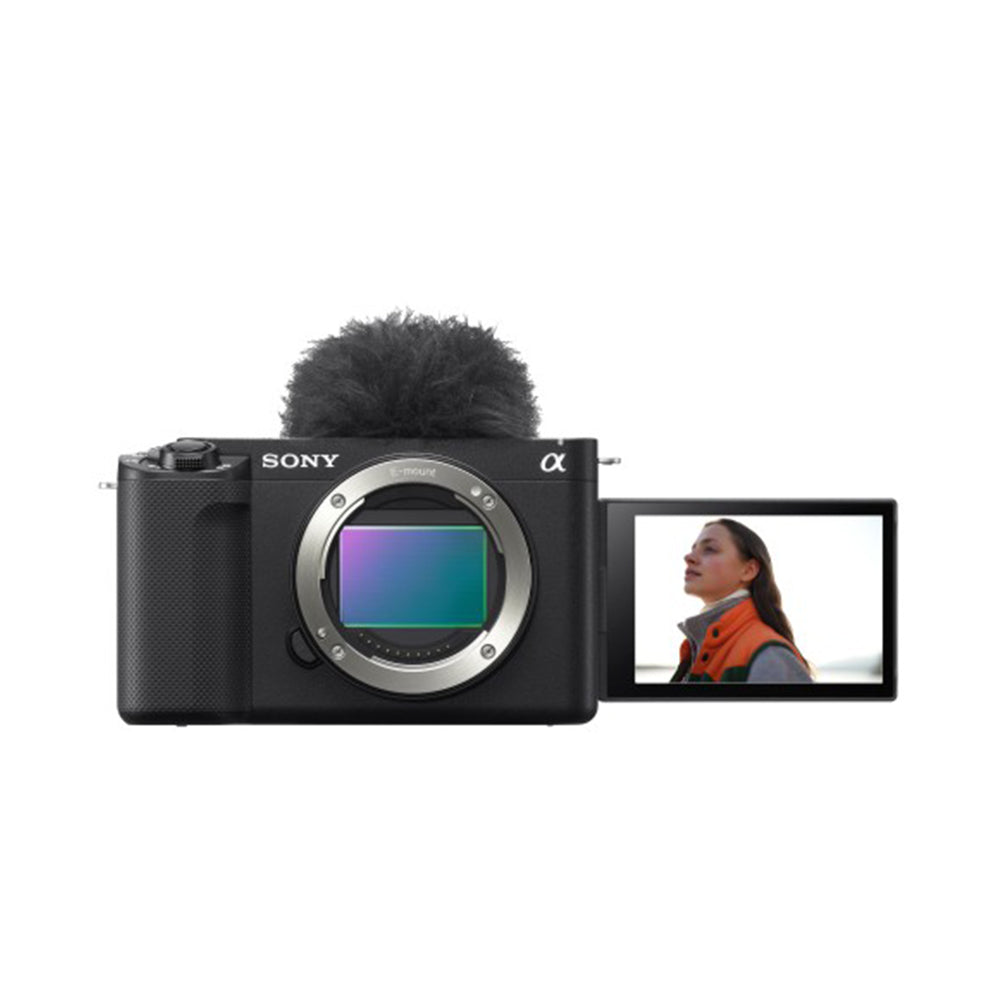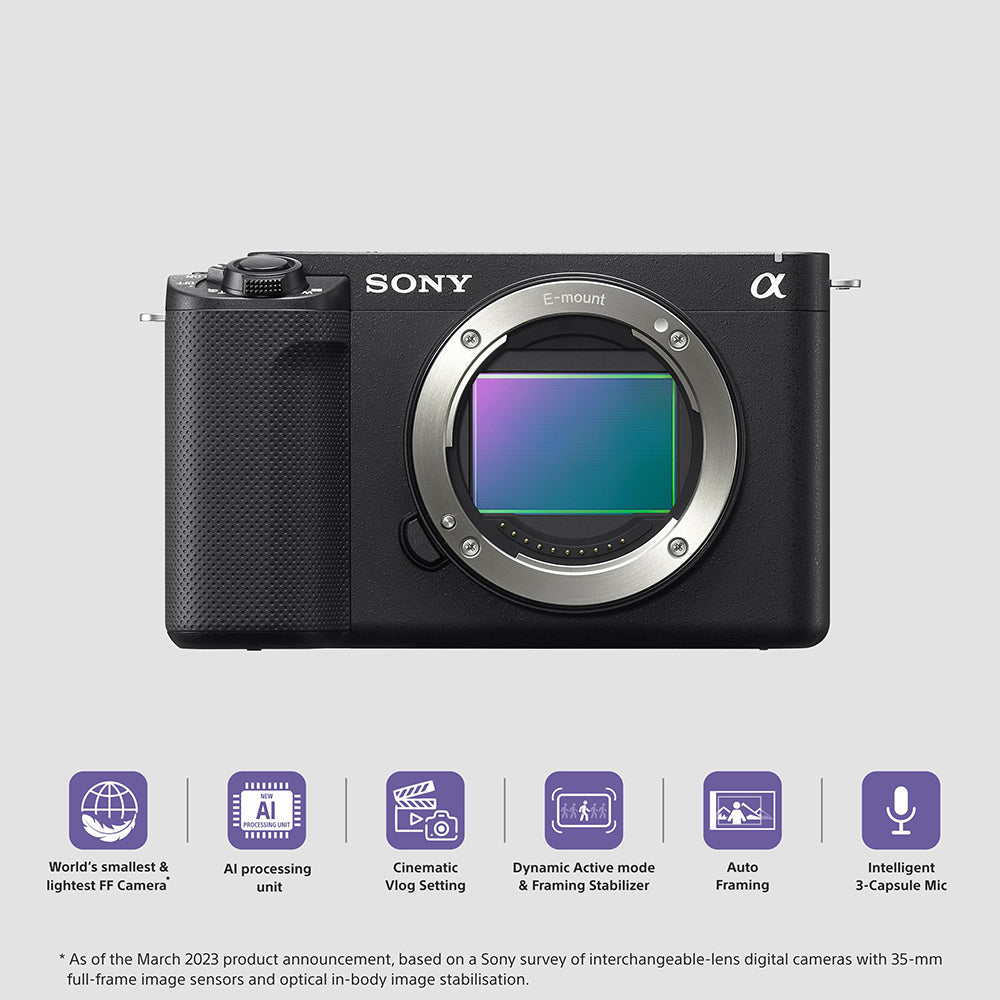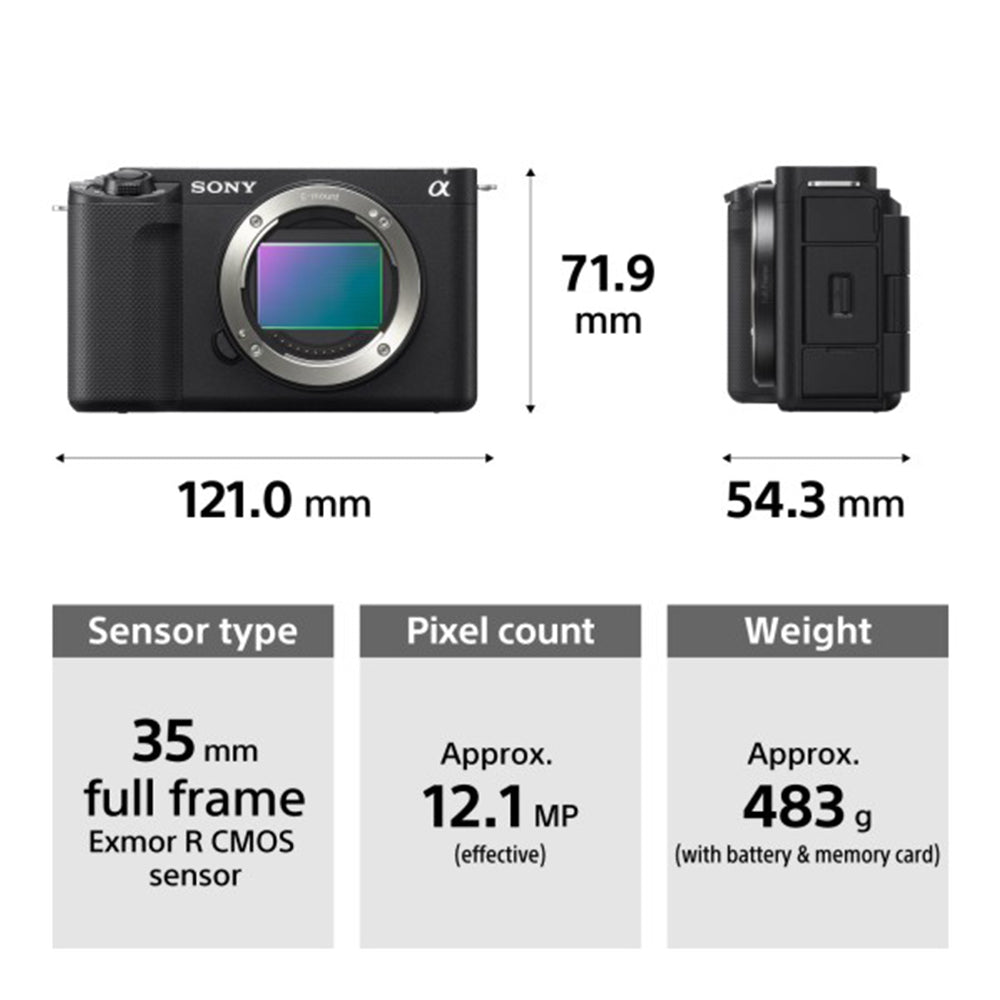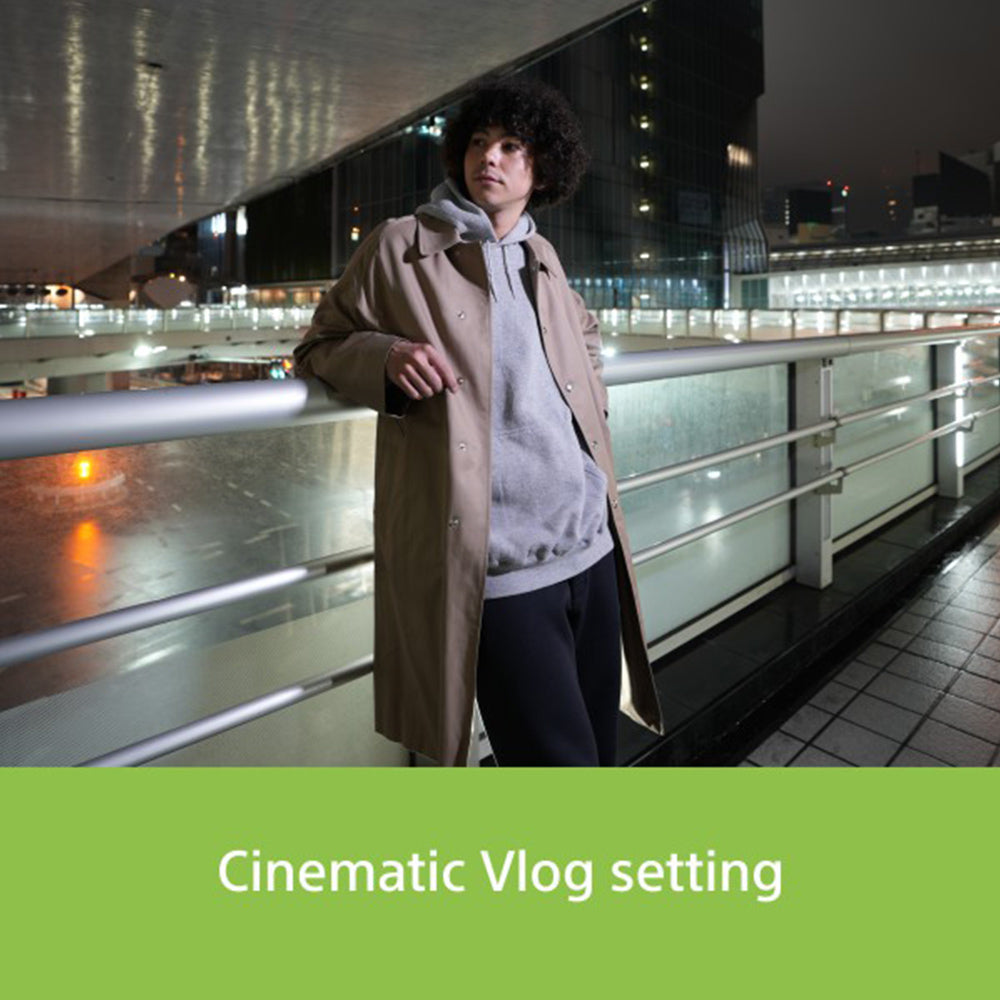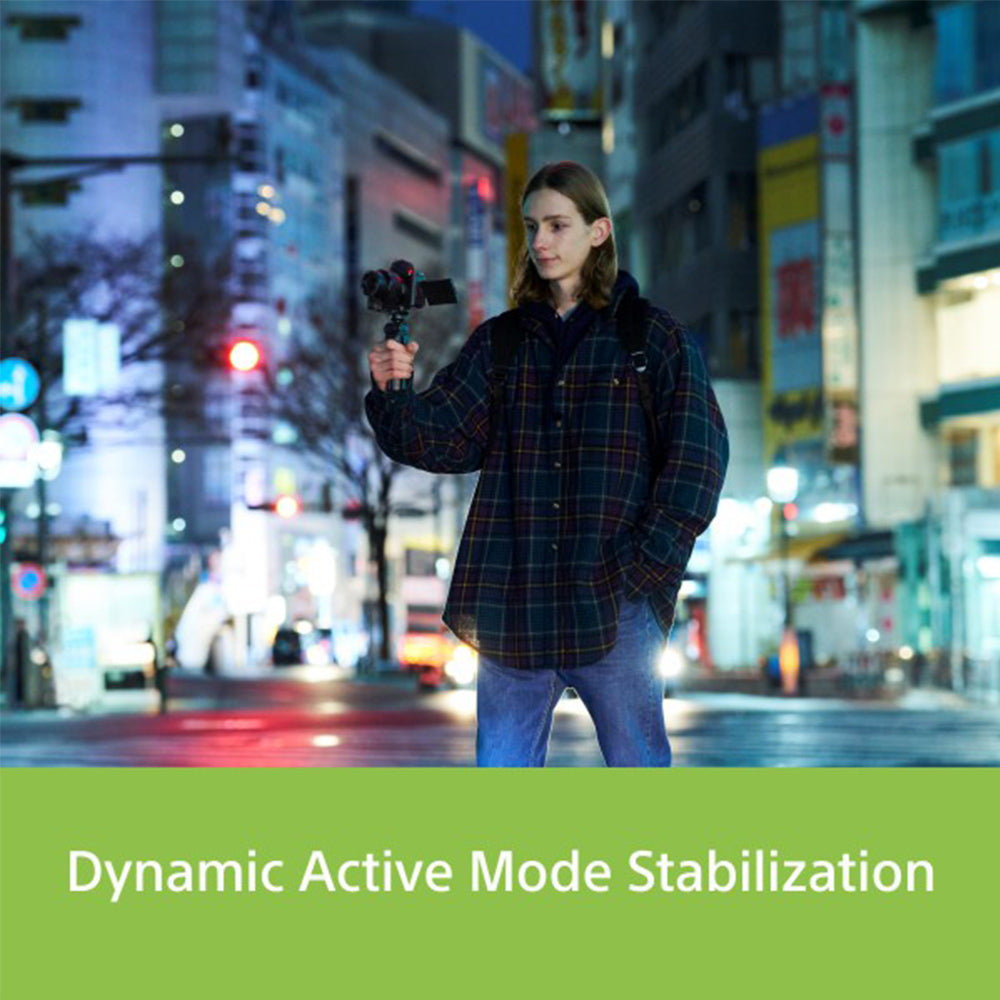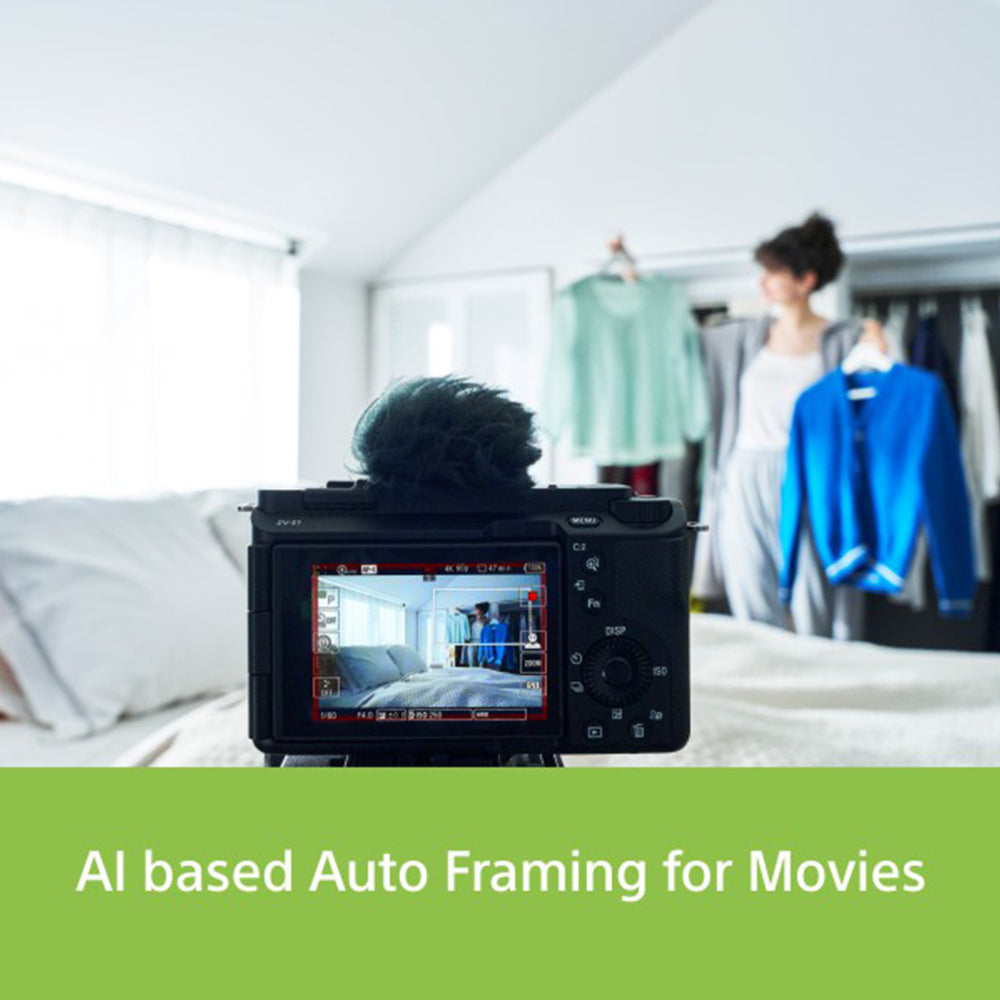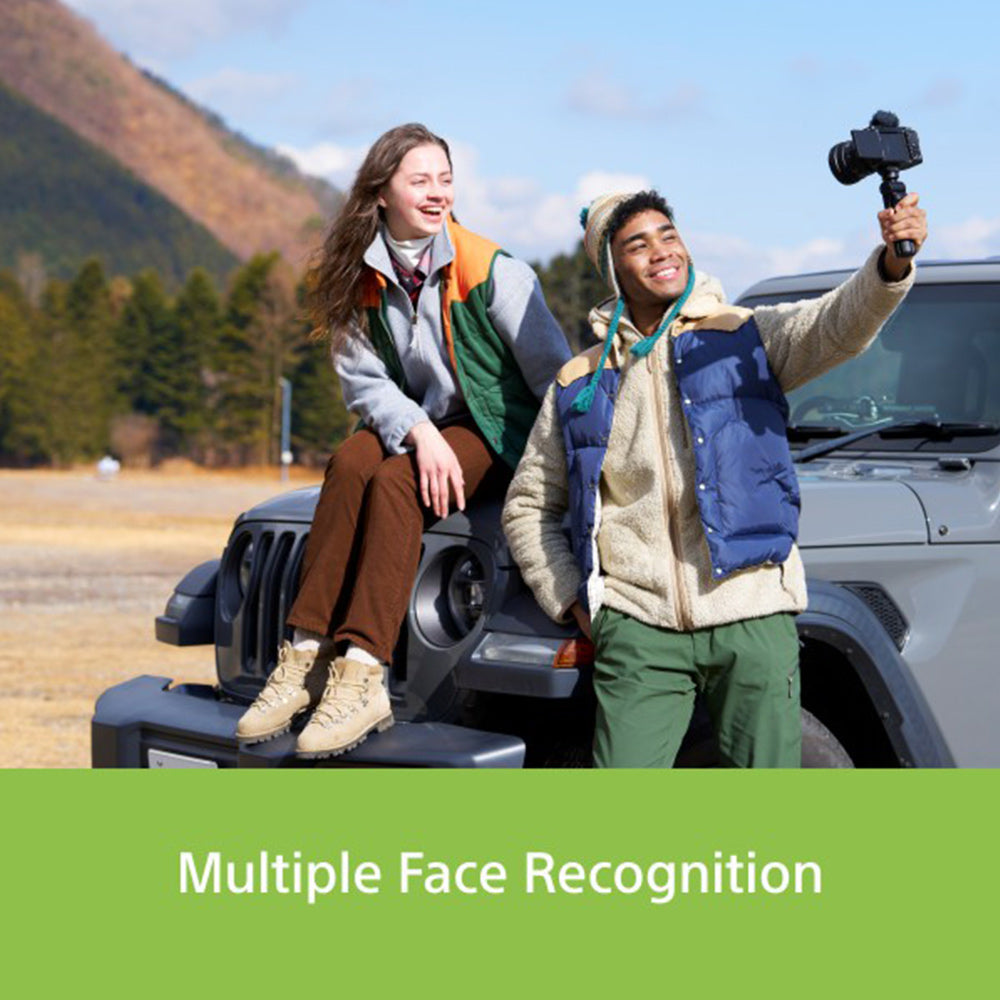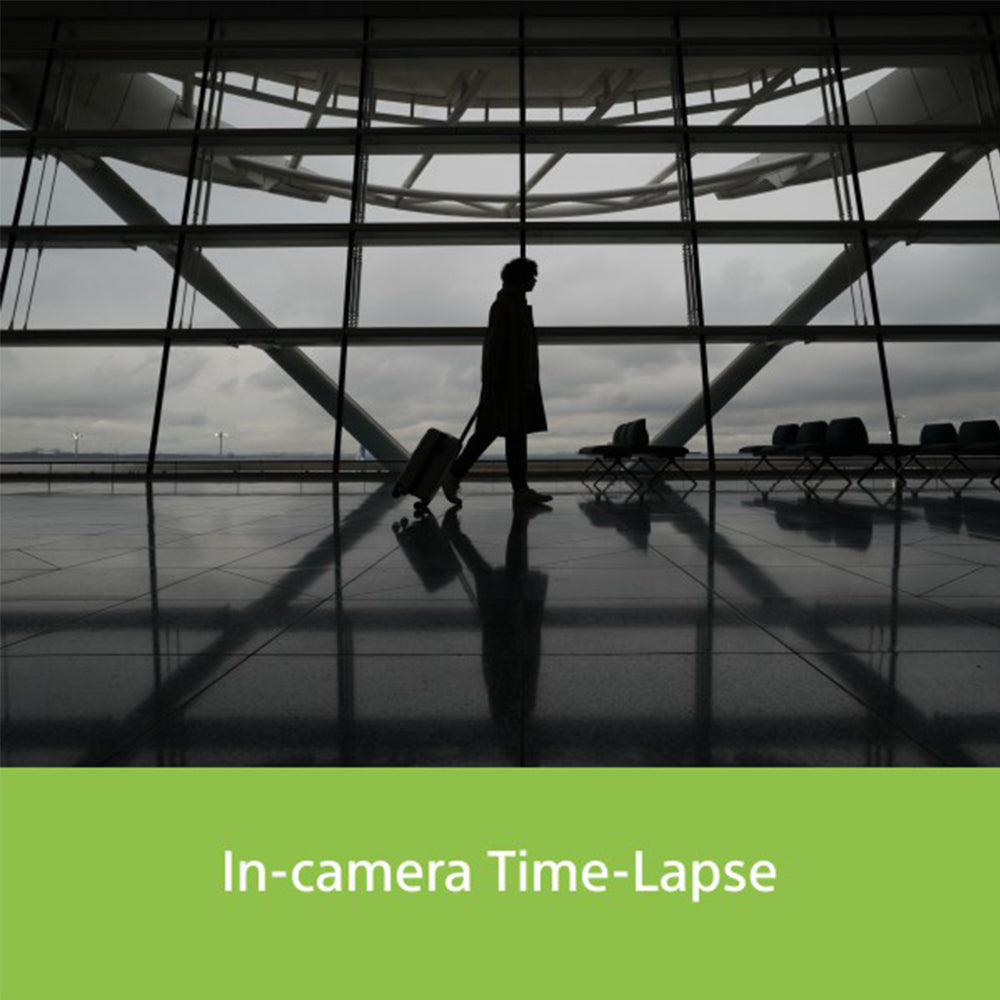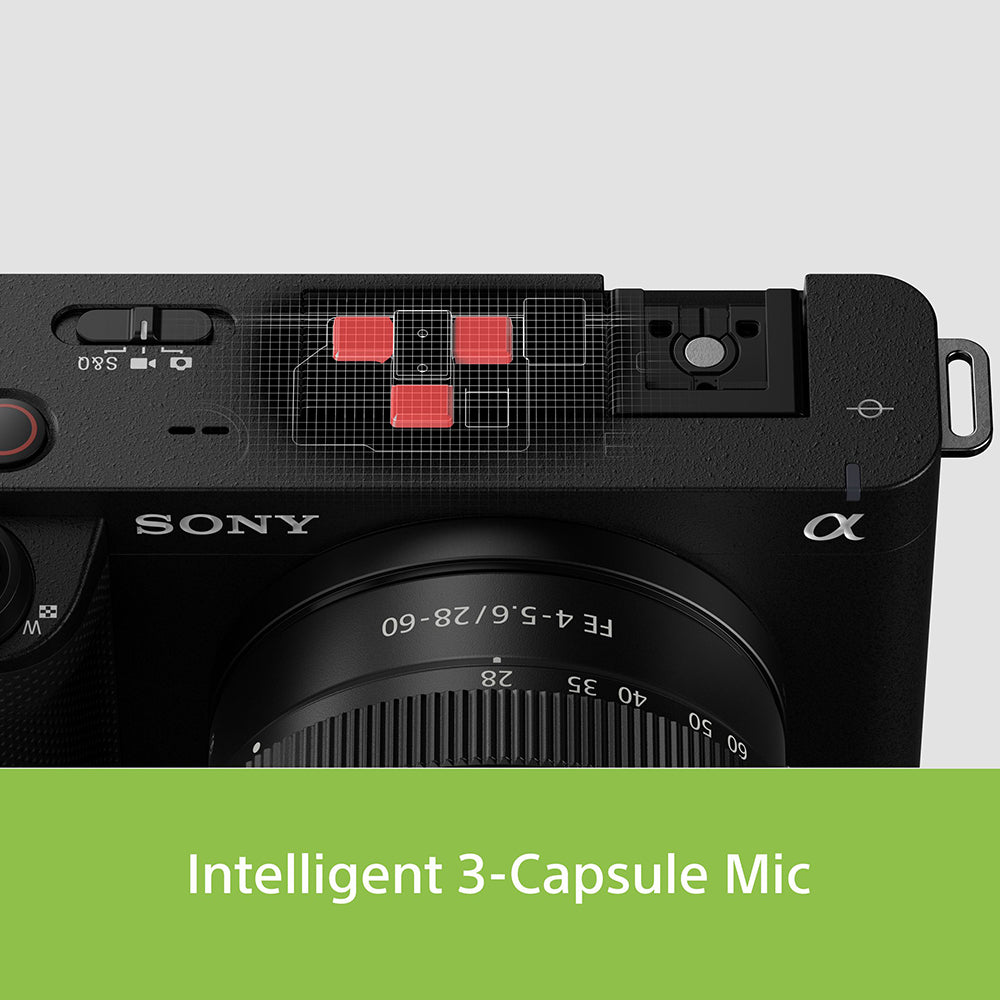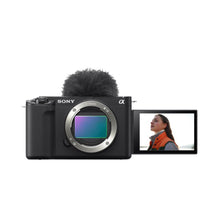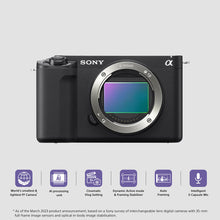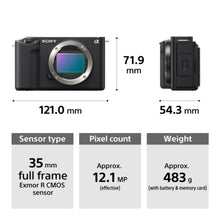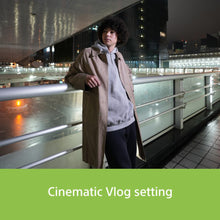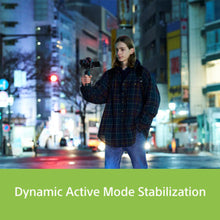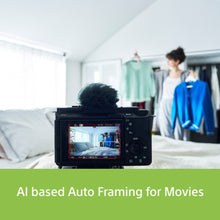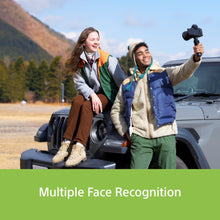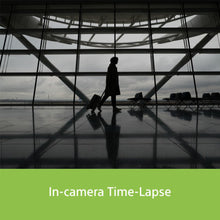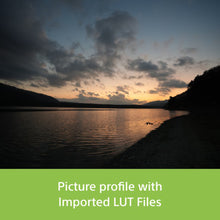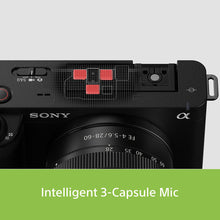 Limited stock
New
Warranty
2 years warranty provided by the manufacturer from date of purchase.
Manufacturing & Packaging details

| | |
| --- | --- |
| Manufacturer Name | : Sony Corporation, 1-7-1 Konan, Minato-KU, Tokyo 108-0075, Japan |
| Country of Origin | : Thailand |
| Name of Importer & Address | : Sony India Pvt. Ltd. , A-18, Mohan Co-operative Industrial Estate, Mathura Road, New Delhi-110044, India, Toll Free : 1800-103-7799, E-mail : sonyindia.care@ap.sony.com |

Net quantity
:

1 U (Unit) (Quoted MRP is for 1 U only and inclusive of all taxes)

Sony Alpha ZV-E1 Full-Frame Interchangeable-Lens Mirrorless vlog Camera (Body Only) | Made for Creators | 12.1 MP | Artificial Intelligence based Autofocus | 4K 120p Recording - Black
₹ 188,990 (incl. of all taxes)
₹ 188,990
MRP ₹ 214,990 (incl. of all taxes)
You Save: ₹ 26,000 (12%)
Product Description
The ZV-E1 is an interchangeable-lens vlog camera with a high-performance 35-mm full-frame image sensor. It gives creative vloggers who want to deliver the highest-quality content all the advantages of Sony's most-advanced technology.

12.1 MP full-frame back-illuminated CMOS Exmor R image sensor

Advanced BIONZ XR image processing engine

An AI processing unit for wider, more accurate subject recognition

The world's most compact, lightweight full-frame camera with interchangeable lenses

Intelligent 3-Capsule Microphone

This product comes with below bundled products
Features
Expressive imagery that emphasises your subject
Sony's cutting-edge technologies answer the demands of vloggers for uncompromising image expression. The CMOS Exmor R™ full-frame sensor delivers wide latitude, low noise, gorgeous full-frame bokeh, and high sensitivity. And with up to 8x more processing power*, the latest BIONZ XR™ performs extremely fast real-time image processing and supports 4K 60p, 120p-upgradable* recording, with improvements in gradation rendering, colour reproduction and low-noise imaging. *Compared to the BIONZ X image processing engine in the ZV-E10. Sony tests.
Choose from a variety of lenses to express yourself
Because it features Sony's E-mount, the ZV-E1 can be used with all E-mount lenses including the superlative G Master series with stunning resolution and world-class bokeh. A choice of focal lengths ranging from 12 mm to 1200 mm* gives users comprehensive creative control. *With the SEL20TC teleconverter. 35-mm full-frame equivalent.
Natural skin tones, Soft Skin Effect and background bokeh
The colours and textures of human skin and foliage are rendered consistently, even in challenging lighting conditions. Improved gradation rendering produces better skin tones and highlight roll-off in portraits, while the Soft Skin Effect smoothes out small wrinkles and blemishes and adds clarity around the eyes and mouth. When you want to emphasise your main subject, a press of the Bokeh Switch creates impressive full-frame bokeh in the background.
Framing Stabiliser maintains a constant subject position
The Framing Stabiliser* feature automatically keeps the subject's position in the frame constant, which can be particularly useful when walking alongside the subject. Advanced AI-based subject recognition technology works with the camera's Dynamic active Mode** image stabilisation to reliably keep the subject in the frame during handheld shooting. *Available only for movies. Framing is cropped from 4K images, resulting in reduced angle of view. **Dynamic active Mode reduces angle of view more than Active Mode. Clear Image Zoom is not available when using Dynamic active Mode.
Create memorable imagery with Cinematic Vlog Setting
Cinematic Vlog Setting* provides an intuitive way to create scenes that look like feature movies. By choosing a Look, Mood** and AF transition speed, anyone can create cinematic vlog footage that ideally matches the scene and creative intent. The Cinematic Vlog Setting includes "Look" options such as S-Cinetone that can enhance skin tones, "Mood" options that can emphasise specific colours, and the AF transition speed that determines how quickly autofocus will switch between subjects. The overall cinematic feel is further enhanced by the use of a 24 fps*** frame rate and the widescreen Cinemascope aspect ratio (2.35:1)**** with black bands above and below the image. *Available in the Movie and S&Q modes. Not available for XAVC S-I 4K recording in S&Q mode. **Mood is not available when the [Mono] Look is selected. ***Recording frame rates are indicated as the closest integer values. The actual corresponding frame rates are as follows: 24p: 23.98 fps, 30p: 29.97 fps, 60p: 59.94 fps, and 120p: 119.88 fps. ****The black bands above and below the image are recorded as part of the image. The image area between the black bands is Cinemascope aspect ratio, but the aspect ratio of the entire recorded image area is 16:9.
Dynamic active Mode stabilisation
A high-precision stabilisation* unit and gyro sensors built into the camera, plus optimised image stabilisation algorithms, allow advanced electronic stabilisation to work in conjunction with the camera's 5-axis optical in-body image stabilisation system in a new Dynamic active Mode**. The Dynamic active Mode is approximately 30% more effective than the Active Mode20 provided in previous models. This makes it easier than ever to shoot smooth, stable vlog footage while moving around for bold, dynamic expression. *Dynamic active Mode reduces angle of view more than Active Mode. Clear Image Zoom is not available when using Dynamic active Mode. **Compared to the α7S III Active Mode. Sony internal tests.
AI-based Auto Framing for movies*
Using AI-based subject recognition technology, the Auto Framing feature automatically crops the frame to keep the subject in a prominent position when shooting movies. The framing is continually adjusted so that the recorded footage looks like the subject was being followed by an experienced camera operator, even though the camera is mounted on a tripod. In addition to the camera automatically recognising a subject and initialising tracking, any other subject can be selected for tracking by touching it on the camera's monitor or the Creators' App on a smartphone. *Available only for movies. Framing is cropped from 4K images, resulting in reduced angle of view.
Tenacious Real-time Tracking
The ZV-E1's AI-based Real-time Tracking* will leave you free to concentrate on framing and composition. Subject-recognition performance has improved greatly, offering higher tracking reliability from the moment the function is initiated and making it more useful in a wider range of shooting situations**. Even people wearing helmets or masks, or animals facing away from the camera, can be accurately detected and tracked in real time***. *[Tracking] in the menu. Based on advanced artificial intelligence, including machine learning. **When subject recognition is ON during AF shooting. Face, eye etc. recognition status can be monitored when subject recognition frame display is ON. ***Camera operation depends on focus area settings and touch operation. Accurate focus may not be achieved in some situations.
AI plus leading technology achieves precision focus
With its innovative AI processing unit, the ZV-E1 can accurately recognise a subject to focus on. In addition to people, animals and birds, the AI unit now makes it possible to recognise insects, cars, trains, and aeroplanes* as subjects. With Real-time Tracking, the recognised subject can be tracked in real time at high speed. *Camera may not accurately recognise all specified subjects in all conditions. Available subject settings are: Human, Animal/Bird, Animal, Bird, Insect, Car/Train, and Aeroplane. Subject types other than the type specified may be erroneously recognised in some cases.
Multiple Face Recognition*
With this feature the camera will automatically adjust bokeh and focus on multiple recognised faces in group shots, so you don't have to worry that only people in the foreground are in focus while the faces of people in the back are out of focus. No manual aperture adjustment is required, so you can go with the flow of the moment to capture natural expressions. *Available in the Movie or S&Q modes when Intelligent Auto is selected with [AF Subject Recognition] set to [Human].
Product Showcase Setting for product review videos
The Product Showcase Setting* makes it easy to shoot product review videos. The camera will smoothly switch focus from your face to a product held in front of the lens and then back to your face when the product is moved away. Product Showcase Setting can be turned on or off simply by pressing the dedicated button provided. *[Subject Recognition in AF] is locked to [Off], and [Focus Area] is set to [Zone].
`
Suppress image shifts while focusing
The ZV-E1 includes a Breathing Compensation function that minimises focus breathing—changes in angle of view caused by changes in the lens's focus—that can occur when focusing while recording movies. Sony's original Clear Image Zoom technology is used to automatically maintain a consistent angle of view when focusing, making it possible to achieve smooth, dramatic focusing effects.
Slow and Quick Motion
For astonishing slow motion, S&Q modes* record every detail using bit rates up to 600 Mbps (4:2:2 10-bit, XAVC S-I 60p)**, or up to 240 fps capture (Full HD)*** for 10x slower playback. S&Q modes let you capture fresh new perspectives on dynamic sport and other action. *Audio recording not available in S&Q mode. ** A V90 class memory card is required to record XAVC S-I. ***A free licence key must be downloaded from Sony's camera upgrade website and installed in the camera. Not available in some countries and regions. To be released in June 2023 or later. Visit the following URL for details: https://creatorscloud.sony.net/cameraupgrade/4k120p/ 1420 x 804 effective sensor readout pixels.
Intelligent 3-Capsule Microphone
The ZV-E1 features a high-performance 3-capsule microphone with variable directivity that is capable of picking up clear audio in outdoor situations where wind and environmental noise can be a problem. The microphone is designed to clearly capture the voice of your main subject, and depending on your shoot you can set the microphone's directivity to Front, Rear, All Directions or Auto*. *Microphone directivity settings become inactive when an external microphone is connected.
Creative zoom control
The zoom lever located on top of the grip not only controls compatible powered zoom lenses, but also allows Clear Image Zoom to be used with unpowered zoom and prime lenses with less image degradation. Real-time Recognition AF, Real-time Tracking, and focus area settings remain active while zooming digitally or with Clear Image Zoom, ensuring that the full precision and speed of the camera's phase-detection AF system is realised even during digital zoom operations*. *Available in the Movie and S&Q modes.
Intuitive touch operations
Swiping the left or right edge of the monitor display reveals touch-function icons at the top that control the shooting mode, Cinematic Vlog Setting, and more. Additionally, the function (Fn) menu can be displayed by swiping up on the monitor. Other refinements include exposure compensation and white balance touch-control icons that have been added to the existing F-stop, shutter speed, and ISO icons at the bottom of the monitor display*. *Not available in the Intelligent Auto mode.
Easy, stable smartphone connectivity
Connection stability when transferring images from the camera to the Creators' App* on a smartphone has been greatly improved, as transfers continue in the background even if the smartphone display sleeps or a different app is launched. Workflow from shooting to sharing has been notably improved overall. *Check regional availability of services and applications via the URL below: https://www.sony.net/cca/
Sony Alpha ZV-E1L Full-Frame
Sony Alpha ZV-E1L Full-Frame Interchangeable-Lens Mirrorless vlog Camera I Purchased in Sony Centre
i cancelled after 24 hours and Sony Centre Change for the cancellation charges 6,328 Rupees Don't
Hi Satheesha ,
We would like to thank you for taking the time to share your feedback with us. Company not charge you , it`a payment gateway cancellation charges. that you have to pay .
For cancellation policy, you may refer this link, https://shopatsc.com/pages/cancellation-shipping-policy
Regards,
ShopAtSC
- Collapse all
Specification
Customer questions & answers