PS5 Destruction All Stars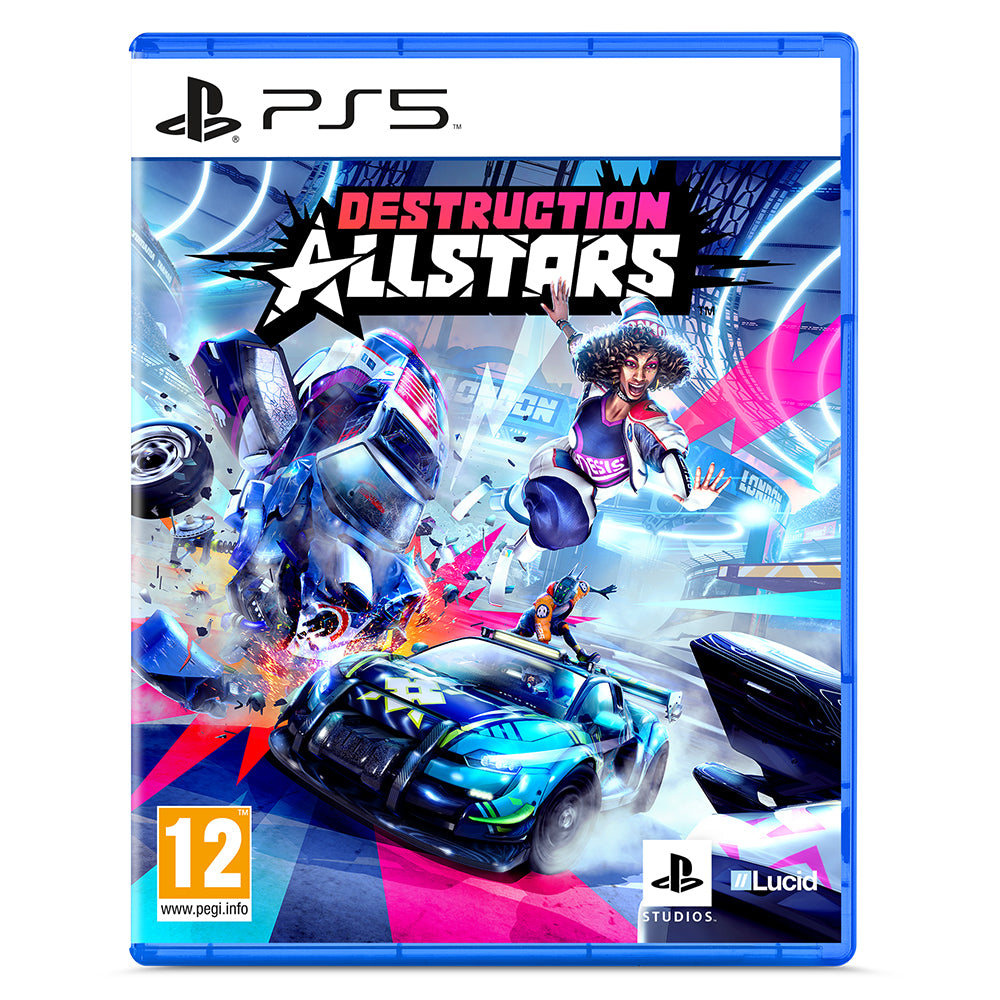 Manufacturing & Packaging details

| | |
| --- | --- |
| Manufacturer Name | : SONY DADC EUROPE LIMITED, ZWEIGNIEDERLASSUNG OSTERREICH, SONYSTRASSE 20, A-5081, ANIF AUSTRIA |
| Country of Origin | : Austria |
| Name of Importer & Address | : Sony India Pvt. Ltd., A-18, Mohan Co-operative Industrial Estate, Mathura Road, New Delhi-44 |

Net quantity
:

1 U (Unit) (Quoted MRP is for 1 U only and inclusive of all taxes)

PS5 Destruction All Stars
₹ 1,499 (incl. of all taxes)
₹ 1,499
MRP ₹ 1,499 (incl. of all taxes)
Product Description
Dominate the glittering global phenomenon of Destruction AllStars – the spectacular prime-time sport for dangerous drivers!
Master the art of intense vehicle-based combat through timing, tactics and skills to cause colossal amounts of damage, destruction and devastation in vibrant arenas across the globe.
Pile-on the destruction from behind the wheel or leap into the arena with a breath taking reel of parkour action by dodging attacks, taking over vehicles or using abilities to disrupt the onslaught of incoming vehicles.
Cause enough mayhem to power up your AllStars game-changing hero vehicle fuelled with special abilities.
A roster of 16 blockbuster Destruction AllStars are revved up and ready to compete in the name of entertainment and demolition.
So, strap in for intense, explosive and unpredictable levels of free-flowing action and fight to be crowned the Global Destruction Federation Champion.
Become an AllStar: Utilize each AllStar's abilities to tailor your tactics and play style – exploit their agility, speed or strength to wreck and evade rivals with powerful skills and parkour, switch between vehicles or leap onto speeding cars in heart-stopping takeover attempts.
Drive destruction : The finest engineers have carefully crafted 28 vehicles for the Global Destruction Federation. Cause enough mayhem to power up your hero vehicle – each one is fuelled with special abilities to get fans off their seats.
Master the mayhem : Each competition features specific objectives and targets you need to hit as you direct and tailor the force, impact, speed and power of your destruction.
Create your legacy: Compete in a storied single-player series, specifically tailored to a number of playable Destruction AllStars. Master over 50 events1 to prove yourself a Destruction legend. Unlock new skins, emotes and banners as you take on AI rivals in momentous challenges spread across the five global arenas.
Wreck your friends: Accelerate the drama and enter 16-player online2 matches with your friends. Jump into a Casual quick play session and experience new limited-time rule twists in Special Events.
Stunning visuals: Has total destruction ever looked this good? Experience the global phenomenon of vehicle-based combat in a crisp dynamic 4K resolution.Fast loading: Mayhem waits for no one! Choose your AllStar and accelerate into the action with the near-instant lightning fast load times of the PS5 console's ultra-high speed SSD. Adaptive triggers: Experience your ride! Get unique feedback for each vehicle thanks to the DualSense™ Wireless Controller's adaptive triggers.Haptic feedback: Wham! Experience the impact of rams and slams as the DualSense™ Wireless Controller's dual actuators simulate the feel of your in-game actions through immersive sensory feedback.
PS5 Destruction All Stars
Hi Mimanshu,
Thank you for taking the time to give your feedback. We really appreciate it. We request you to Subscribe to our newsletter www.ShopatSC.com and receive exclusive offers on products you love! We look forward to serve you for your next purchase.
Regards,
ShopAtSC
Customer questions & answers